On August 14th, 2010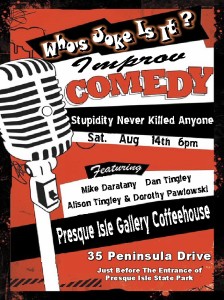 the Presque Isle Gallery and Coffeehouse, 35 Peninsula Drive, is going to be hosting "Whose Joke Is It?", an original,  totally interactive improv comedy show starring Mike Daratany, Jeff Schroeder, Brett Fallon and Dorothy Pawlowski.
ERI Jams Productions and Xanadu Productions have combined to create an evening which will promise laughter and good times…how could you expect less from an event whose tagline is, "Stupidity never killed anybody!"
"Whose Joke Is It" is interactive so, if an audience member doesn't like the routine that's going…for $1 they can change the plot into something they want to see. Also, someone can put their friend on stage to act with the performers for just $5. Audience members will also be randomly picked to go up and perform with the cast in a routine of the host's choice. Ideas will also be taken from the audience where the actors will have to perform whatever the audience member suggests.
The show is going to be a "racy PG-13" The ONLY rule the performers have, is that they have to remember the seven dirty words George Carlin says can't be used on TV, applies to this show. Other than that…everything and everyone is fair game!.  However, it will NOT become a night of who can tell the dirtiest joke.  It will be kept tasteful throughout the show.
Tickets for the show are just $10 and may be purchased at the door. No advance tickets will be sold.