On April 4th time will rewind and once again we travel through the warp  back to a time of poodle skirts, bobby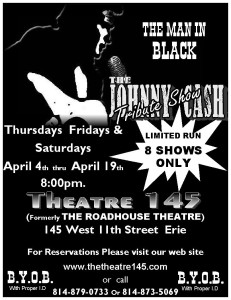 socks, ponytails and greased back hair where music was king and all of us its loyal subjects.
From the creator of "Buddy Holly: The Day The Music Died" and in association with the Roadhouse Theatre for Contemporary Art, the Great Lakes Film Association announces The Man In Black: The Johnny Cash Tribute Show.
The Man In Black production was a labor of love and respect that will star local Erie celebrity Shannon Solo and was designed to celebrate the music and the man who is widely considered to be one of the most influential American musicians of the 20th century.
The Man In Black musical production will enjoy a short run with only eight performances with opening night being Friday April 4th at 8pm to be followed by a reception and then continuing on Saturday April 5th, Thursday April 10th, Friday April 11th, Saturday April 12th, Thursday April 17th, Friday April 18th, and will close on Saturday April 19th . The final performance will include a closing night party.
Show times for each of the limited run performances will be 8pm with doors opening at 7:30pm .  Ticket prices will range from $10.00 to $15.00 depending on seating preference.
We are accepting pre-paid reservations only so please have your credit card ready when making your reservation.  You may also purchase tickets by coming down to our box office at 145 West 11thStreet (formerly the Roadhouse Theatre) Monday thru Friday between the hours of 10am and 6pm.
Please come out and share with us this very special tribute to the man in black.
We'll see you at the show…
~∴~∴~∴~∴~∴~∴~∴~∴~∴~∴~∴~∴~∴~∴~∴~∴~∴~∴~∴~∴~∴~∴~∴~∴~