Songs & Sonnets by Jim Morrison is an original stage play/musical that celebrates not only the music of the Doors but the poetry and passion that powered their music, along with a jubilee of the times that helped to shape our today.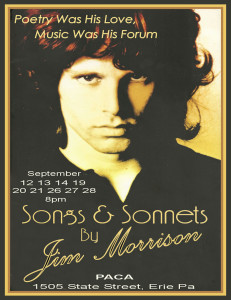 Songs & Sonnets by Jim Morrison features much of the popular Doors music along with many of the most unique and intense poems as created by Jim Morrison. Songs & Sonnets By Jim Morrison offers an inside look through a kaleidoscope of sensations, revealing the Man, the Music, and the Fuel that lit the Fire of the Doors.
The entire 3-week run of the show will feature after parties and receptions with many of the best local musicians and your favorite bands, along with film and other artistic presentations to be announced soon.
The entire month long cornucopia of theatre, music, art, poetry and film will not only expand your mind and enrich your senses but will also keep your toes tapping, your fingers snapping, and offer a rock n' roll experience at full throttle warp speed to the ends of the universe.
Cast List 
Directed & Written by Steven M Opsanic & Carrie Canfield
Musicians


Paul Davis




Amber Cooke




Mckenzie Sprague




Shannon Spiegel




Mark Dolak




Brian Green




JC Nickles




Johnzo Cipriani

Poets


Chuck Joy




Cee Williams




Ron Hayes




Monica Igras




Carrie Canfield