The Roadhouse Theatre has been renamed Theatre 145 and is getting ready for a six-day run of "Remembering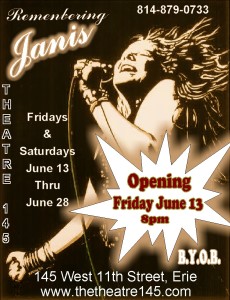 Janis," starting Friday, June 13, at 145 W. 11th St. in Erie.
A multi-group performance is also slated on Saturday, June 14.
"Remembering Janis" is scheduled Friday, June 13; Friday and Saturday, June 20-21; and Thursday, Friday and Saturday, June 26-28. All performances are to start at 8 p.m.
There also will be a feature film presentation of "Janis" at 10 p.m. on Friday, June 27, and a closing night reception for "Remembering Janis" with Orion's Eye and After Party on Saturday, June 28.
On Saturday, June 14, Theatre 145 will present Kill People, Aggro Hippie, The Sound City Saints, Local 80, Jay Decay, Brain Dead Happy, West Coast Burning, Corporate Candy, With Race Comes, and Revolution on the main stage. The doors are to open at 5:30 p.m.